The ultimate Malayali dance-mix
Asima – a vocal and percussion ensemble from Kerala – brings the house down at INK2013. Clad in their distinctive white mundus, Asima charms the audience with a selection of folk music by the celebrated Devisaaro. It wasn't long before they had the audience on their feet, and breaking out into spontaneous dance.
Recorded at INK2013, Kochi, Kerala
About the Speaker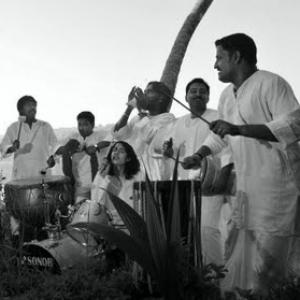 Vocal and Percussion Ensemble
Asima is a boundary-breaking vocal and percussion ensemble from Trivandrum, Kerala. The word "asima" in sanskrit means "beyond boundaries", and the ensemble combines elements from India's rhythmic and melodic systems with harmonic traditions of western music. The music of asima is directed by Devissaro, an Australian born musician who has lived in India since 1980. Trained initially as a classical pianist, Devissaro subsequently studied Hindustani vocal music of the ancient Dhrupad tradition under the renowned Dagar family, as well as pakhawaj and bansuri. The music of the asima is a reflection of Devissaro's background in both western and Indian classical music. The asima ensemble comprises five Carnatic singers Anil Ram, Gokul Bhaskaran, Anoop Sivanandan, Anoop Mohandas and Khalid. They are accompanied by Tao Issaro on drumkit and percussion, Sajith Padmanabhan on south Indian drums, Yakzan Pereira on keyboard and Ben Sam Jones on guitar and bass. Asima has been enthusiastically received by a wide range of audiences both in India and abroad, and has performed in a number of highly prestigious venues. Asima won warm praise in the UK where it toured in 2007 and again when it performed for the BBC Proms at the Royal Albert Hall in 2009. In 2011, Asima performed at the Kennedy Center for the Arts, Washington, USA as part of the Maximum Indian Festival. In 2012 Asima collaborated with the great US sax player George Brooks for shows in Trivandrum and Bangalore, and returned to London in April 2013 for 3 knock-out peformances in the Alchemy Festival at the Southbank Centre. In August 2013 Asima toured to 6 cities in China.
View Profile