Yann Vasnier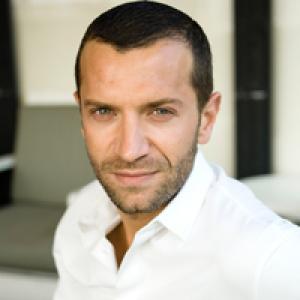 Yann Vasnier was born in Brittany, France and from an early age he was drawn to appreciate the nuances of fragrances. He trained as a perfumer at ISIPCA, the prestigious Versailles perfumery school and he graduated Valedictorian in 1999. During his studies, Yann also worked as a trainee perfumer for Quest International in Paris. Upon graduating, he was offered a position as a junior perfumer with the Fine Fragrance team in Paris, trained by Francoise Caron. In 2001, Yann was the recipient of the International Young Perfumer Award. In July 2003, Yann joined the Quest New York as a perfumer and in 2007 joined Givaudan.
His creative vision as a perfumer is that every fragrance should represent a dimension of subtlety and an aspect of definitive character. Fragrance composition should not be shy. And for him, the most evocative fragrances are the ones worn by people you love or have loved.
His intense love of travel lends him cultural and environmental inspiration for his scents, he believes that inspiration can come from everywhere. His life as a New Yorker has put him at the center of renowned creatives from the world of art, design, fashion and technology. His most recent collaboration with Visionaire Sixty Religion, he scented the limited edition volume. Amongst others, he has crafted fragrances for Marc Jacobs, Tom Ford, Donna Karan, Comme des Garçons and Tommy Hilfiger.
PERSONAL JOURNEY
Becoming a perfumer has certainly been quite a journey: from the first smell of my parents' roses or noticing the intense change in odors as we drove to the South of France on summer holidays, to working in a beautiful lab on 57th Street in New York for the most prestigious designers. The journey still takes a lot of time, will power, luck, navigating, rejection, and competition. It's a never ending game of trial and error, always trying to imagine and create the next masterpiece and the next success. For me, the journey of perfumery never ends.
WORKS
Fragrances created or co-created: TOM FORD PRIVATE BLEND SANTAL BLUSH (2011) MARC JACOBS BANG BANG (2011) MARC JACOBS OH LOLA! (2011) VISIONAIRE SIXTY RICCARDO TISCI RELIGION (2011) NAUTICA DISCOVERY PURE (2011) MARC JACOBS SPLASH CURACAO (2011) MARC JACOBS SPLASH GINGER (2011) TOM FORD PRIVATE BLEND LAVENDER PALM (2011) DELRAE PANACHE (2010) TRUE RELIGION DRIFTER (2010) SIX SCENTS SERIES THREE OHNE TITEL (2010) TOMMY HILFIGER LOUD FOR HIM (2010) TOMMY HILFIGER LOUD FOR HER (2010) MARC JACOBS BANG (2010) DELRAE COUP DE FOUDRE (2010) MARC JACOBS SPLASH APPLE (2010) SIX SCENTS SERIES TWO DAMIR DOMA (2009) TOM FORD PRIVATE BLEND URBAN MUSK (2009) ELIZABETH ARDEN 5TH AVENUE STYLE (2009) MARC JACOBS LOLA (2009) DIVINE EAU DIVINE (2009) LYNX SUMMER EDITION (2009) IMPULSE ROMANTIC SPARK (2009) DELRAE MYTHIQUE (2009) EDDIE BAUER ADVENTURER II (2009) SJP ENDLESS LOVELY COLLECTION (2009) DIVINE L'ETRE AIME HOMME & FEMME (2009) AXE INSTINCT (2009) MARC JACOBS SPLASH FIG (2008) PUMA FREE FLOWING MAN (2008) BABY PHAT FABULOSITY (2008) LE LABO ALDEHYDE 44 (2007) BBW SWEET PEA EDT (2006) DONNA KARAN GOLD (2006) AXE CLICK (2006) BBW PECAN PASSION (2006) AVON MIDNIGHT FOR MEN (2006) CERRUTI 1881 COLLECTION CERRUTI (2005) JACK BLACK SIGNATURE BLACK MARK (2005) AVON FLORAL PRINT MAGNOLIA (2005) APOTHIA L (2005) DIVINE L'HOMME SAGE (2005) KEIKO MECHERI GOURMANDISES (2004) DIVINE L'AME S'UR (2004) DIVINE L'INFANTE (2004) DIVINE L'HOMME DE C'UR (2003) KANGOL 38-83 (2003) COMME DES GARCONS RED SERIES PALISANDER (2001) COMME DES GARCONS RED SERIES ROSE (2001)