Viswa Subbaraman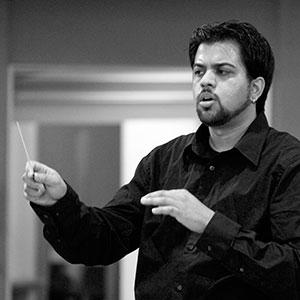 Internationally acclaimed American conductor, Viswa Subbaraman, is currently the Artistic Director/Music Director of The Skylight Music Theatre in Milwaukee. In his inaugural season at the Skylight, highlights include  a number of critically acclaimed and audience acclaimed productions such as a Bollywood production of Beethoven's Fidelio, which he both stage directed and conducted, a production of Hans Werner Henze's El Cimarrón, and Philip Glass' Hydrogen Jukebox.
Previous to his time with the Skylight, Subbaraman was the Artistic Director/Founder of Opera Vista, Houston's innovative contemporary opera company. In his time with Opera Vista, he was selected by the HoustonPress as a 100 Creatives 2012: one of the one hundred most creative people in Houston. Opera Vista and Subbaraman were also honored with the 2010 Mastermind Award from the HoustonPress for artistic creativity and innovative outreach.
Equally comfortable in the orchestral realm as with opera, Mr. Subbaraman served as  Assistant Conductor of the Orchestre National de France where he assisted Kurt Masur and visiting guest conductors. Subbaraman has conducted the National Symphony Orchestra in Washington D.C. at the Kennedy Center as a Debut Conductor in the National Conducting Institute.
WEBSITE: www.viswasubbaraman.com