Vasundhara Das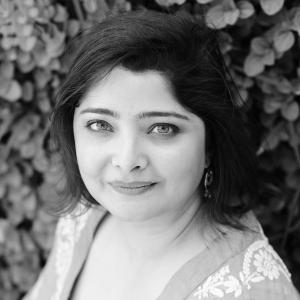 Vasundhara Das is a singer, songwriter, composer and actress. She has starred in several films in various languages, and has worked extensively as a playback singer in Bollywood, as well as in South Indian regional language films. Vasundhara is also a qualified drum circle facilitator, having trained with Arthur Hull. She spearheads Drumjam's community and children's programmes.
Vasundhara Das is a dynamic stage performer, with her world music band Arya. She is one of the most popular performing stars in India, and has entertained delighted audiences at a variety of events on a global scale. Vasundhara's current focus is on music composition, and she creates original sound tracks for films as well as working on collaborative music projects.
She is co-founder of Drumjam, a company that introduces individuals to the joy of group drumming and hosts drum circles.
ABOUT SHAH HUSSAIN PROJECT:
The Shah Hussain Project is a collaboration that features the vocal and musical composition talents of popular singer Vasundhara Das and Sufi singer Mir Mukhtiyar Ali. Celebrated musician Roberto Narain is producer as well as drummer on this project.
The music draws inspiration from the 16th century Sufi poetry of Shah Hussain. Five hundred years ago, this poet from Lahore wrote mainly in Punjabi, Saraiki and Sindhi. These poems, called kafis, are a glimpse into the social setting of Shah Hussain's time; with thoughts and ideas still fresh and relevant in today's 21st century social fabric.
The music is a meeting of traditional and contemporary styles, based on the poetry and focused on live performance.
More Info: theshahhussainproject.com; iTunes