Usha Uthup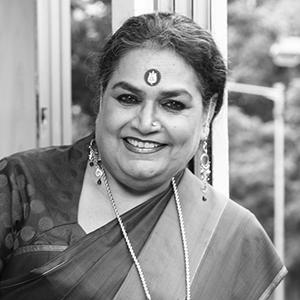 For over 44 years now, Usha Uthup has spread a message of love and unity, peace and harmony, tolerance and integrity, and happiness – through music. From discotheques to concerts, across India and the World, she has addressed the youth about the values of music that makes us human.  She lives as she believes, presenting even the most contemporary songs dressed in traditional attire projecting the fact that India is a true melting pot of cultures, with its own distinctive cultural identity.
Born in 1947, or Didi as she is fondly called, comes from a traditional middle class South Indian family and her career began in 1969 at a Chennai nightclub called Nine Gems and she has recorded more than a hundred albums in sixteen Indian languages, sung un several thousand concerts, performed in all major countries and has been on television since its inception in India. Usha has served as a role model for generations of young Indians and has been an unwavering ambassador for traditional Indian values.
Usha Uthup's music has charmed generations of Indians, young and old. People smile, tap their feet, clap their hands, and forget their worries when she performs. Usha's melody speaks a universal language and transcends religion, race, nationality and caste. She has given people in far-flung cultures an unexpected image of an Indian woman: strong, independent, humorous, intelligent and loaded with talent.
"All that matter is honesty, integrity, and courage to face your conviction."