Suman Sridhar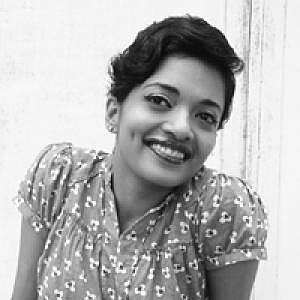 Suman Sridhar is a singer, actor and songwriter. She forms one half of the contemporary music duo, Sridhar/Thayil. Rolling Stone India magazine calls them "two of the most uninhibited people that ever came together to play with music." Suman has performed at the Great Escape Festival (UK), Galle Literary Festival (Sri Lanka), Southbank Centre (UK), National Centre for Performing Arts (Mumbai), Prithvi Theatre festival (Mumbai) and more.
Sridhar is a singer, actor, songwriter and producer. Jeet Thayil and her form the contemporary music project, Sridhar/Thayil. S/T was named one of 9 Artists to Watch in India by Rolling Stone Magazine and awarded the Jack Daniel's Rock Award for emerging act of the year in 2009. Sridhar has been described as "one of those rare singers who combine an old-world voice with a very contemporary sensibility."
Sridhar grew up in Mumbai with Indian classical music in her family, and earned an undergraduate degree in western music from Rutgers University, New Jersey, USA. Her background ranges from singing in classical choirs to jazz and contemporary ensembles, cabaret and musical theatre across the NYC area and India. Her discography includes appearance on independent albums Violet Samudra (Earth Tones Music, NYC 2005), Brown Circles (Brian Bond, NJ 2006) and soundtracks to Hindi feature films '404' and 'Shaitan' amongst others. Sridhar co-wrote, co-produced and performed in original musical productions Yoni Ki Baat (New Jersey, 2006) and The Flying Wallas: Opera Noir (Mumbai, 2009).
Sridhar's on-stage collaborations include The Window Seat, the Louis Banks quartet, Noush Like Sploosh and Dr Das of the Asian Dub Foundation. She has performed at the Great Escape festival (Brighton, UK), Jazzmandu festival (Kathmandu, Nepal), Southbank Centre (London, UK), Galle Literary Festival (Sri Lanka), National Theatre of Performing Arts (Mumbai), Prithvi Theatre Festival (Mumbai) etc. Her debut album with Sridhar/Thayil is forthcoming.
Personal Journey
I was fourteen years old when my family moved from India to the States. Exiting JFK airport, it felt like I was entering the future- the wind hit my face with interstellar speed, I could only discern the whizzing cars by the trail of light they left behind. I was teleported from an all-girls Catholic school in a Bombay suburb to east coast carpeted high school hallways where sex-drugs-guns was the word of the day. The graffiti on the walls began to blur the pan spit in my memory, and 'galat' was replaced by 'grime.' My neighbour handed me my first jazz record- Verve's 'Ultimate jazz' collection. It was okay to be dark, it meant you could sing and run- the two activities that belonged to the third world, to the past.
WEBSITE: Sridhar/Thayil