Subodh Kerkar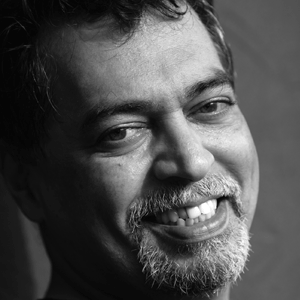 Subodh Kerkar was born in a small picturesque village of Keri on the northern border of Goa in 1959, just 2 years before the liberation of Goa from the Portuguese rule.
He spent his childhood, walking on the beaches with his artist father, Chandrakant Kerkar. These walks consolidated his relationship with his father and with the ocean.
Subodh qualified as a doctor, ran a hospital for 7 years before giving it up to pursue his passion, Visual Arts.
Subodh Kerar's installations are heavily washed by the ocean, both literally and metaphorically. He creates his ephemeral installations using thousands of mussel shells, coconut shells, recycled tyres, boats, bamboos, fishermen and sand.
The ocean is both inside and outside his works, his master and his muse.
Dr. Subodh creates large works on the seashore, which are often infused with politics and history.
Dr. Subodh is the Founding Director of the Museum of Goa (MOG) and has exhibited widely in India and abroad in galleries and in museums.