Sri. Tatwamasi Dixit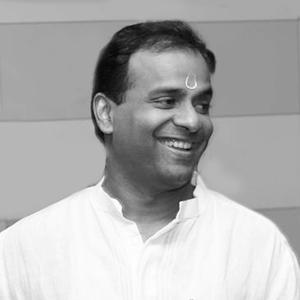 Sri Tatwamasi Dixit, a successful Family Business Advisor by profession, specialises in working with business owning families. He founded FABRIC (Family Business Research International Centre), a boutique consulting firm, offering family business advisory services and coaching to Family Business Entrepreneurs.
The firm advises on succession planning, family business governance, articulating the family charter & constitution, professionalizing the family business, conflict resolution & communication, leadership development and strategic advice. Depending on the underlying complexity of the relationships and family business challenges, he crafts an appropriate unique solution for transformation and harmony.
He is internationally recognized for his knowledge and application of the ancient Indian wisdom of the Vedas and well versed in modern day Business Models and Management practices. He has perhaps uniquely mastered the integration of Vedic principles with Contemporary Psychology and Business Management.
In addition, he draws an extensive experience of commercial and management practice to help Family Businesses to work on balancing and blending family and business priorities. This unusual combination of experiences, exceptional insight and intuition has helped him to become a successful family business advisor helping families and businesses to manage growth, change and transitions.
He has been successfully working with Indian, Arab, Jewish, and English families across the globe for more than a decade in multi-cultural environment. He brings the rich experience of working with more than 70 families globally.
He is a talented natural mediator and facilitator. His intensive studies and training have enabled him to develop deep understanding of people, relationships and structure. He uses this to help individuals explore about their identity.
He weaves a fabric of togetherness between family members, business professionals allowing renewal and re-generation of Emotional bonds. He has the ability to take the 'heat' of family tensions and 'undo the knots' as he brings to the table a calming influence and a light touch that helps people deal with their difficult issues. He firmly believes that 'The foundation of any successful family business is a successful family'. He also coaches founders and entrepreneurs, working with them in what can often be a lonely space to overcome obstacles and work more effectively with their business and their family.
In particular, his outstanding talent and contribution was recognized when he was awarded the "Maharishi Badrayan Vyas Samman", the highest civilian award in 2007, by the President of India for his work on the 'synergy between modernity and tradition'. He is often invited to speak at conferences and institutions around the world on Vedas and Family Business Management. He is co-authoring a book on Indian family business along with Mr. Peter Leach who is a leading family business advisor in UK.
"All that matters is unleashing the potential of human being."