Shraddha Narayanan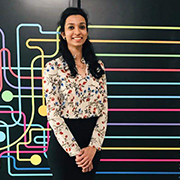 Shraddha leads the idea accelerator vertical at INKTalks, called INK Studio. She and her team collaborate with partners to give shape, structure, and direction to socially relevant programs. INK Studio strategizes, operationalizes and program manages the social impact initiatives from 0 to 3 years. Currently, they are working on 3 diverse programs:
Impacting nano- entrepreneurs via #RestartIndia (www.restartindia.in) with Muthoot Pappachan Group
Providing access to clean drinking water where it matters, rural India with Community Pure Water and
Looking at cultivating an entrepreneurial mindset in young leaders with the Youth INK program with Network Capital.
She holds a B.Tech degree in Biotechnology from ICFAI University, a Masters in Microbiology from Michigan State University, and a Business and Communications Certificate from Eli Broad School, MSU. She has about 13+ years of corporate experience, having previously worked in the Intellectual Property Rights division for Dr. Reddy's and as the COO for a health and wellness startup in Hyderabad. Shraddha is also a talented dancer and dance fitness instructor and sangeet choreographer. She enjoys painting and up-cycling and creating home decor.