Shamim Sarif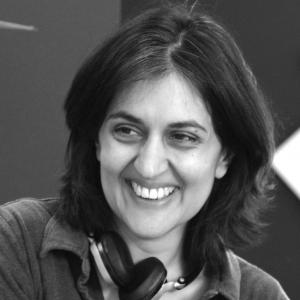 British writer and director Shamim Sarif is an award-winning novelist, screenwriter, and feature film director. She has published three novels and one non-fiction book and has written and directed three feature films and a documentary.
Shamim recently completed Despite the Falling Snow, which had its market premiere at Cannes in May 2015. The movie stars Rebecca Ferguson (Mission Impossible 5 and The White Queen) and Charles Dance and is an epic story of love and betrayal in cold war Russia based on her second novel, published by Hodder Headline and St Martins Press to universal acclaim.
Her first feature film 'I Can't Think Straight' won 11 awards and is currently under option with Aaron Kaplan of Kapital Entertainment for development as a TV series in the US. Her follow up movie 'The World Unseen' had its debut at the prestigious Toronto Film Festival before going on to garner 23 awards internationally, including 11 SAFTAs (South African Film Awards). Her third film, a documentary called The House of Tomorrow, was shot on location in Israel and Palestine and had festival debuts in New York and Sarasota in 2012 and won its first award this year in France.
The World Unseen book won the Pendleton May First Novel Award, and then the prestigious Betty Trask Award. It was selected for inclusion at all the major UK book festivals, including Hay-on-Wye, Cheltenham and Edinburgh and sold out of its initial print runs.
Shamim is currently completing the screenplay for her latest project, Hidden Agenda, an intelligent action thriller with female protagonists, based on her own forthcoming book. She is also developing the concept as a TV series with Left Bank Pictures.