Reena Esmail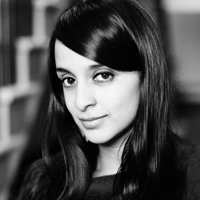 Composer Reena Esmail's works have been heard in performances and festivals across the United States and Europe. She holds degrees from Juilliard and the Yale School of Music, and is based in New Delhi for the 2011-2012 academic year on a Fulbright-Nehru Scholarship studying Hindustani classical music and exploring the integration of Indian elements into the music she writes.
Esmail's works have been heard in performances and festivals in the United States, Canada and Europe. She holds a bachelors degree in composition from The Juilliard School, and has studied composition with Susan Botti, Christopher Rouse and Samuel Adler. She has won many awards including two ASCAP Morton Gould Young Composer Awards. Esmail recently completed a MM, Composition at the Yale School of Music, where she was a student of Aaron Jay Kernis, Christopher Theofanidis and Martin Bresnick.
As a pianist, Esmail was a winner in the MTAC-WLA Chamber Music Competition, and performed chamber music with members of the Los Angeles Philharmonic. She has studied violin with Ella Rutkovsky-Heifets, and has sung with the New Amsterdam Singers and C4. She has also worked with a number of Indian classical musicians, including Carnatic singer Shobana Raghavan, and Hindustani singers Priya Kanungo and Mosami Shah. During the 2010-11 season, she was the conductor and arranger for Yale's Hindi a cappella group, Sur et Veritaal, and still continues to write their arrangements.
Esmail was on the composition faculty at Manhattan School of Music Precollege from 2008-2011, and was also on the theory and ear training faculty there from 2006-2009. Both her composition and piano students have placed in state and national competitions.
The 2010-11 included premiers of many of Esmail's recent works including her Piano Quintet, commissioned by the Norfolk Chamber Music Festival, her new work Aria for the Yale Philharmonia and Hindustani Classical singer Meena Shivaram, White Key, her large work for choir on the text of poet Carol Muske-Dukes which will be premiered by the Yale Camerata, Asterion in the Tropics, a commission from the Haverford College Choir and Tian Hui Ng, with new poetry by Edgar Garcia, a new work for flute and percussion, commissioned by Duel, a new chamber work commissioned for the Chamber Music Conference East in Bennington, VT, and a scene from Meera, an opera in the Hindi language about the life of saint-poet Meera Bai.
Esmail is a recipient of a Fulbright-Nehru grant for the 2011-2012 year and currently lives in New Delhi, India, where she is affiliated with the Faculty of Music and Fine Arts at Delhi University, and studies Hindustani vocal music with Gaurav Mazumdar.
PERSONAL JOURNEY
As a first generation Indian-American, I moved to India this past August for a year on a Fulbright-Nehru scholarship to study Hindustani classical music. As I simultaneously absorb the culture, the language and the music of India both through my directed studies and through everything around me, I have been constantly reevaluating my own identity and my relationship to my cultural heritage, both musically and personally. Every day here has been a gift.
WEBSITE: Reena Esmail
BLOG: Reena in India