Rashesh Shah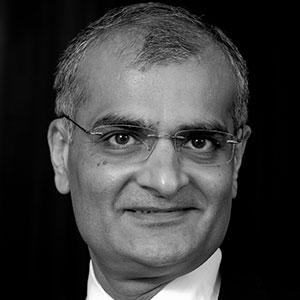 Rashesh Shah has spent over 25 years in the corporate and financial markets sector and is one of the leading spokespersons for the industry. He started Edelweiss in 1996 that has since grown into one of India's leading diversified financial services conglomerates.
The 270 billion Edelweiss Group is present across all significant areas of financial services including Credit, Housing Finance, Financial Markets, Commodities, Asset Management and Life Insurance. The Group has 240 offices in 125 cities, including eight international offices in New York, Canada, Dubai, Hong Kong, Singapore, Mauritius, Nigeria and Chad with headquarters in Mumbai, India.
Rashesh is passionate about financial services and the role it can play in translating India's vast savings into investments; thereby powering economic growth and development. Under his leadership, Edelweiss has combined technology, innovation and growth oriented entrepreneurship with a strong focus on risk management to become one of the more successful, stable and well respected financial services companies in India. Finance Asia, Hong Kong ranked Edelweiss as India's Best Managed mid-cap company in 2013 and 2014.
A regular commentator on macro- economic policies, development matters and financial markets in the mainline and financial media, Rashesh serves on the Boards of various companies and public institutions. He has previously been on the Executive Committee of the National Stock Exchange and also on the SEBI (Stock Exchange Board of India) committee to review Insider Trading Regulations. He currently serves as Chairman, Maharashtra Council of FICCI and is a part of the Directors Forum formed by corporate stalwarts  under the aegis of the FICCI Center for Corporate Governance seeking to improve the quality of board-level governance in Indian industry.