Raju Reddy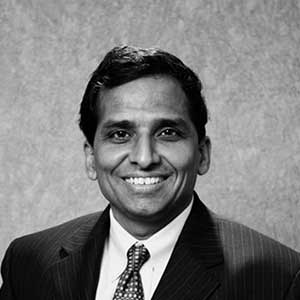 Raju is the Founder and CEO of Sierra Atlantic, a company that grew to be a best-in-class global services company over a period of 17 years. Under his leadership, Sierra Atlantic grew from a startup to over 2400 employees with operations in several countries and was consistently ranked amongst the best managed companies including the top 75 most admired companies in Silicon Valley, Top 25 great places to work in India and Top 10 best employers in South China.
Sierra Atlantic was acquired by Hitachi Consulting in December 2010 and it is the largest ever acquisition by Hitachi Consulting to date. Prior to founding Sierra Atlantic in 1993, Raju spent 10 years at Intel in software development, marketing, and general management. Raju currently serves on the board of Hitachi Consulting and GharPay, a fast growing consumer internet company based in India.
Raju is active in not-for-profit initiatives and is currently Chairman of BITSAA Intl, the alumni body of BITS Pilani, India's #1 private university. He enjoys working with young entrepreneurs in a mentorship role and was instrumental in starting the TiE Chapter in Hyderabad. Raju also serves on the Board of India community center in Milpitas, CA. He previously served as a member of the Board of Trustees for Puente, a Wharton School non-profit program which helped under privileged communities worldwide gain access to technology. He also co-founded SIPA (Silicon Valley Indian Professional Association) in 1987.
Raju holds a Bachelor of Science degree in electrical and electronics engineering from BITS Pilani and a Master of Science degree in computer science from Virginia Tech.