Pramod Bhasin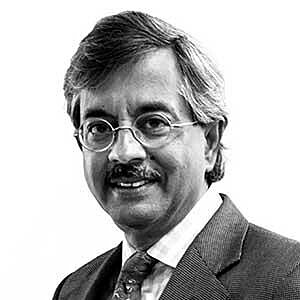 Pramod established Genpact (formerly GE Capital International Services) in 1997. Under his leadership, Genpact pioneered the Business Process Outsourcing industry in India. Genpact has also been the pioneer in this industry in China and Eastern Europe. Today, it is acknowledged as a leader in the globalization of services and technology and manages business processes for companies around the world. Genpact serves its customers from over 35 operations centers in 13 countries, with over 42,500 employees across a wide range of business processes, technologies and industries. Genpact is now a publicly traded company listed on the New York Stock Exchange under the symbol 'G'.
Pramod was earlier an Officer of General Electric (GE). His career with GE and RCA spanned 25 years across the US, Europe and Asia. He was most recently the head of GE Capital in India and in Asia, having earlier worked with GE Capital's Corporate and Finance Group in Stamford, Connecticut, USA.
Pramod is a Chartered Accountant from Thomson McLintock & Co., London, and holds a Bachelor of Commerce degree from Delhi University. He was the past Chairman of India's National Association of Software & Services Companies (NASSCOM), and is also a member of the Board of Trustees of NASSCOM Foundation. Pramod is the current Chairman of the CII Services Council. He serves on the boards of NDTV and SKS Microfinance. He is also Chairman of the Junior Achievement India Founders Board, and is on the governing boards of several educational institutions, including IIM Lucknow, Lady Shri Ram College, and Shri Ram School.