Nayana Somaratna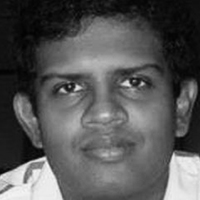 Nayana Somaratna is a doctor, programmer and entrepreneur. While still a medical student, he founded his own outsourcing company, completed another degree in IT, and taught students how to program. His vision is to make medical education entertaining, inexpensive and accessible to doctors and medical students via the medium of mobile phones.
Somaratna wrote his first line of code when he was just seven. A self-taught programmer, he went on to clinch a Gold Medal at the International Olympiad in Informatics in 2001. Whilst a student himself, he spent his weekends teaching school children how to program. Later on, he taught quite a few medical students as well. He also founded an outsourcing firm specializing in mobile and web applications, which helped fund his way through college.
After obtaining degrees in Medicine and in Information Technology, Somaratna left his medical practice to follow his passion of becoming a full time entrepreneur. His startup Medical Joyworks aims to make medical education entertaining, inexpensive and accessible to doctors, medical students and other healthcare professionals, via the medium of mobile phones.
Their first application "Prognosis: Your Diagnosis" uses a cartoon style narrative and gaming techniques to teach clinical medicine in a simple and entertaining manner. Prognosis has been the #1 free medical iPhone app in the United States and currently is a top 50 app in both the iPhone and Android application stores, with over half a million users worldwide as of late 2011.
PERSONAL JOURNEY
My journey through university showed me that both medicine and IT are taught in a similar manner – via lectures, tutorials and practicals. However, there are enough and more external resources to make learning IT fun – competitions, puzzles and interactive animations, just to name a few. On the other hand, most external resources on medicine were in a similar format to internal material and about as dull. Once I graduated, I wanted to change this for the better.
WEBSITE: Medical Joyworks, Prognosis: Your Diagnosis