N.V. 'Tiger' Tyagarajan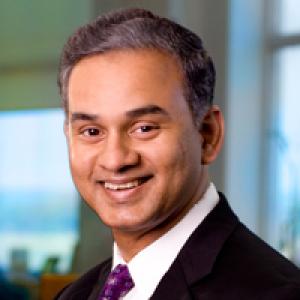 Tiger is one of the pioneers of the business process management industry who transformed Genpact from a unit of GE in 1997 into a leading global business process and technology management services company. Tiger began his career with the Unilever Group in India where he spent seven years in sales and marketing. He then shifted to the financial services industry and spent three years with Citibank's Consumer Financial Services businesses, where he earned a reputation for turning around inefficient businesses. He joined GE Capital in 1994 as Head of Risk in India and went on to become CEO for GE Capital's Global Consumer Finance and Auto Financial Services operations in India. In 2002, he was transferred within GE to the Global Commercial Lending Businesses in the U.S. as Global Head of Six Sigma and Global Operations. Tiger rejoined Genpact in 2005 and became President and CEO in June 2011.
Tiger has a degree in mechanical engineering from the Indian Institute of Technology, Mumbai, and an MBA, majoring in Finance and Marketing, from the Indian Institute of Management, Ahmedabad. By playing a key leadership role in the founding of Genpact, Tiger also spawned the business process management industry as a whole which has had an extraordinary positive impact on economic growth and workforce development in many emerging markets – opening doors to employment, training, and educational opportunities along with infrastructure and services. Genpact also indirectly contributes to the employment of an additional one million people who work in businesses that support the company and its employees.
Known for his extraordinary energy, frequent engagement with clients, and activity in social media forums, Tiger speaks at many industry and global business events including the World Economic Forum and the Wall Street Journal CEO Council. He and his wife have one son who is attending a university in the U.S.
PERSONAL JOURNEYDuring my career, I have believed in joining a company, not just taking a job. After great opportunities working in sales management for Unilever and consumer and commercial finance at Citibank, I read Jack Welch's two books and decided that I had to work for GE. I interviewed for sales but ended up in risk management because I was so passionate about the company, and I still am. I also believe in continually taking on projects that challenge and stretch your capabilities. By doing this, you take the necessary risks that will bring you to the next level