Mohammed Ali Niang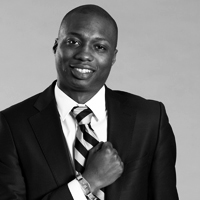 Mohamed Ali Niang is the founding CEO of Malo Traders, a social venture based in Mali. Mohamed's mission is to combat extreme poverty and malnutrition by amplifying the income of smallholder rice farmers while simultaneously providing fortified rice to malnourished consumers at an affordable price. Malo Trader's first facility will produce enough fortified rice in its fifth year to meet the annual needs of 280,000 Malians.
Niang (Chief Executive Officer) graduated from Temple University August 2011 with a Bachelors in International Business/Entrepreneurship and minors in Economics. He holds a Master's degree with specialization in International Management and Finance from le Centre d'Etude Franco-Americain de Management. He was part of the winning team at the 2010 Center for International Business and Education Research (CIBER) International Case Competition and also received the 2010 Sol Tutelman Memorial Prize from Temple University, an award given to the student achieving the highest standards in the field of entrepreneurship. He was also honored with the Harry Halloran Social Entrepreneurship Award and the prestigious Temple's Diamond Award, the most outstanding award a student can receive. Niang is an Unreasonable Institute and Echoing Green Fellow.
Niang interned at a diverse organizations dedicated to social change and poverty alleviation including the UN Food and Agriculture Organization in Niger, the Women's Opportunity Resource Center in Philadelphia, and the Program for Appropriate Technology in Health (PATH). During these internships, Niang developed valuable experiences and insights into the agriculture and nutritional sector, microfinance, and project management. He worked as an Undergraduate Consultant for the Sustainability in Risk Management Team at Fox-SBM Enterprise Management Consulting. Niang is especially proud of his role in designing and implementing a comprehensive marketing plan (TV, radio, written press) for selling 11,000 clean cooking stoves in 2008 while working for Tissina Ltd., a medium size Malian company specialized in green products.
He is currently serving as founding CEO of Malo Traders a social venture whose mission is to combat extreme poverty and malnutrition by 1) paying rice farmers a living price, 2) minimizing post-harvest losses by at least 10% with high-efficiency processing equipment, 3) fortifying rice with vital minerals and vitamins using GMO-free and culturally appropriate technology, 4) creating the first brand of Gambiaka (a Malian rice variety) that adheres to international export quality standards, while 5) creating a "closed loop" or "cradle-to-cradle" system by producing biochar for organic fertilization, rice bran oil for cooking, and animal feed. Malo Traders was awarded the Judges' Choice Prize at the University of Washington's 2010 Global Social Entrepreneurship Competition and the 2010 Innovative Idea Competition at Temple University. In April 2011, Malo Traders was awarded first prize in the Social Venture category at the Pace University Pitch Contest. We concluded the month of May by winning second prize at Temple University's Be Your Own Boss Bowl and the Dell Social Innovation Competition bringing in $35,000 in cash.
PERSONAL JOURNEY
A few months after the 2008 hunger riots, I accompanied a delegation of West African dignitaries to Mali's biggest rice growing region. The region had abundant land and water resources as well as committed farmers. But, I saw hardworking rice farmers go hungry as a result of inadequate technological support and commercialization opportunities. This experience compelled me to move beyond just empathy and volunteerism and towards building a social venture that will make hungry farmers' an oxymoron and ensure they are capable of producing a product that will allow them to make decent livings and contribute wealth and health of the nation.
WEBSITE: Malo Traders
VIDEOS: Unreasonable Institute, Unreasonable TV: Episode 6