Madhumita Halder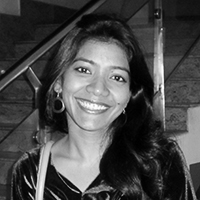 Madhumita Halder is the founder of MadRat Games, creators of the World's first Indian Language word game – Aksharit (www.aksharit.com). She graduated in Computer Science from IIT Bombay and being an artist at heart, worked for a FX studio. However her creative energies not finding room for expression in the corporate world, she chose to work with children. She subsequently taught middle school children at an alternate education center for 4 years.
She explored science through games, play and activities with the children. That's when the tremendous potential that Play had in learning became abundantly clear. With the vision to unleash this potential that Play holds to engage learners through fun, she co-founded MadRat Games. Their flagship game Aksharit is now ready in 11 major Indian Languages and has been adopted by more than 2500 schools across the country. Nokia, Intel and Google have partnered with MadRat Games and launched Aksharit on half a million devices.
PERSONAL JOURNEY
By my first job I had everything that I had learnt is needed for contentment, yet I felt lost and a search for my purpose in life began. As the question became intense, disillusionment grew and at this time a friend advised me to read the Bhagwad Geeta (which honestly sounded clichéd then) and it talked about how our self brings in emotions and prejudices to our sensory experiences and I knew a switch in me had turned on. I suddenly saw the world for what it was, the societal conditioning dropped and my exploration began.
WEBSITE: MadRatGames
WORKS
Madhumita writes the Science column called My Toy Factory for the HOOT, which is the largest children's magazine in India