Kavita Babu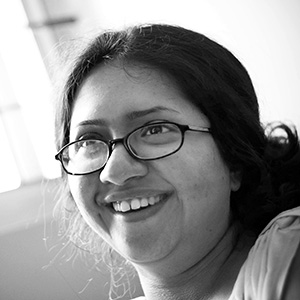 Growing up, math and genetics were always Kavita's favourite subjects in school. She completed her undergraduate degree in chemistry, physics and math, attended the MSc Biotechnology programme at Maharaja Sayajirao University, but left partway to pursue her doctorate at Professor William Chia's laboratory at the Institute of Molecular and Cell Biology in Singapore and King's College in London.
She conducted her Post-doctoral research at the Massachusetts General Hospital where she discovered an Immunoglobulin superfamily molecule that is required for normal synaptic potentiation at the C. elegans neuromuscular junction. Kavtia is a Wellcome DBT Intermediate Fellow and a recipient of the Innovative Young Biotechnologist Award.
Currently, Kavita holds a teaching and research position at the Indian Institute of Science Education and Research in Mohali. This position allows her to pursue her interests in genetics and neurobiology as well as teaching bright young undergraduate and graduate students.