Julie Taymor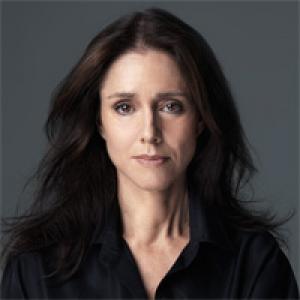 Julie Taymor is an American film, opera and theater director.
Her most recent film, The Tempest, stars Helen Mirren as Prosepra (2010). Taymor's previous film, Across The Universe, a re-imagining of 35 Beatles songs starring Evan Rachel Wood and Jim Sturgess, was nominated for a Golden Globe for Best Musical/Comedy (2008). Her film, Frida (2002), starring Salma Hayek and Alfred Molina, earned six Academy Award nominations and won two. In 1999, Taymor made her feature film directorial debut with Titus, starring Anthony Hopkins and Jessica Lange. The hour-long Fool's Fire, which she both directed and adapted from an Edgar Allan Poe short story, premiered at the Sundance Film Festival and aired on PBS (1992).
Taymor is best known for her direction of The Lion King on Broadway (1997), which has presented in over a dozen countries worldwide and opens in Madrid in 2011. The Lion King garnered Taymor two Tony Awards: for best direction of a musical (making her the first woman to receive this award), and for her original costume designs, among numerous other awards. Her many other theater productions include Carlo Gozzi's The Green Bird on Broadway (2000); an original visual music-theater work, Juan Darién: A Carnival Mass, presented at Lincoln Center (1996) which received five Tony nominations including best director, and numerous Shakespeare plays. Most recently, Taymor directed Spider-Man: Turn Off The Dark on Broadway with music and lyrics by Bono and The Edge.
Taymor's many opera directions include Mozart's The Magic Flute, currently in the repertoire of the Metropolitan Opera in New York City; Oedipus Rex which premiered at the Sundance Film Festival and won the Jury Award at the Montreal Festival of Films on Art and an Emmy; The Flying Dutchman for the Los Angeles Music Center in a co-production with the Houston Grand Opera; and Salomé for the Kirov Opera in Russia, Germany, and Israel. Most recently, Taymor directed an original opera, Grendel, based on James Gardner's darkly comic retelling of the Beowulf tale. Composed by Elliot Goldenthal and co-commissioned by The Los Angeles Opera and New York's Lincoln Center Festival, the opera was one of two finalists for the Pulitzer (2006).
Taymor graduated from Oberlin in 1974 Phi Beta Kappa and was presented with a Watson traveling fellowship, allowing her to travel to Japan and Indonesia (1975-79). In Indonesia, she developed a mask/dance company, Teatr Loh, which toured throughout Indonesia with two original productions, WAY OF SNOW and TIRAI (subsequently performed in the United States).
In addition to her two Tony awards, she has also received a MacArthur Fellowship, a Guggenheim Fellowship, two OBIE Awards, the first Annual Dorothy B. Chandler Award in Theater, and the Brandeis Creative Arts Award.
WORKS: An illustrated book on her career, Julie Taymor: Playing With Fire, was recently expanded and revised by Harry N. Abrams. Her book, The Lion King: Pride Rock on Broadway, is published by Hyperion. Taymor's adapted screenplay for TITUS is published in an illustrated book by Newmarket Press. An illustrated book, Frida: Bringing Frida Kahlo's Life and Art to Film, is available from Newmarket Press. An illustrated screenplay of Taymor's adaptation of THE TEMPEST is also on the Abrams imprint.