Elliot Goldenthal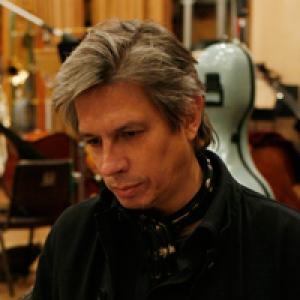 Composer Elliot Goldenthal creates works for orchestra, theater, opera, ballet and film. Most recently he scored Julie Taymor's film version of The Tempest, starring Helen Mirren. In 2003, he was honored with the Academy Award and a Golden Globe Award for the score to Taymor's film Frida. Goldenthal was nominated for his third Grammy Award for co-producing the platinum soundtrack album for Across the Universewhich featured 35 Beatles songs, he also composed the original score for the film.
In 2006, Elliot's original two-act opera Grendel, directed by Julie Taymor, premiered at the Los Angeles Opera. The opera had its east coast debut as the centerpiece of the Lincoln Center Festival in New York, and was added to the Los Angeles Opera's permanent repertoire. Elliot was named one of the two finalists for the 2006 Pulitzer Prize in music for his work on Grendel.
Elliot's large-scale symphonic piece, Fire Water Paper: A Vietnam Oratorio, was commissioned by the Pacific Symphony to commemorate the 20th anniversary of the end of the Vietnam War. It was released in 1996 on Sony Classical Records and featured soloist Yo-Yo Ma. Fire Water Paper debuted at the Pacific Symphony and was later performed at Carnegie Hall and at The Kennedy Center, with Seiji Ozawa conducting the Boston Symphony Orchestra.
Goldenthal was commissioned by the American Ballet Theatre to compose a three-act ballet of Othello, which debuted at the Metropolitan Opera in May 1997. Othello was co-produced by the ABT in partnership with the San Francisco Ballet and was choreographed by Lar Lubovitch. In June 2003, PBS's series Great Performances broadcast a two-hour special of Othello, filmed with the San Francisco Ballet and Goldenthal's original score was nominated for an Emmy Award. To date, Othello has been performed at The Dorothy Chandler Pavilion, The Kennedy Center, Den Norske Opera & Ballett in Oslo and the Opéra National de Paris in Paris. In October 2009, the Joffrey Ballet showcased Othello in nine performances in Chicago.