Dina Buchbinder Auron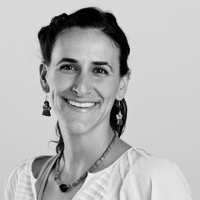 Dina Buchbinder Auron has introduced an innovative, action-oriented education model, called Deport-es para Compartir, to a Mexican education system that has long struggled with passivity and rigidity. Deport-es para Compartir empowers teachers from a variety of school settings to foster social and environmental awareness while also teaching values such as teamwork and fair play.
Dina Buchbinder Auron is a 29-year-old Mexican woman. She is currently the Director of the United Nations Youth Association in Mexico and Founder and Director of the program Deport-es para Compartir (Sports to Share).
She studied International Relations at ITAM University in Mexico City. She speaks 5 languages: Spanish, English, Italian, French, and Hebrew.
Since early in her childhood, Auron has always been committed to social causes. She started as a volunteer when she was 12 years old at KADIMA (a center for disabled children), and afterwards she volunteered for Oxfam. Aware of the importance of getting involved with her community, Auron has been active in supporting projects related to education, health, migration, gender, the environment, and sustainable development. Examples of this are her participation in organizing the Jewish Week at ITAM University, putting on the simulation of presidential elections, and presenting to students the "De Nadie" documentary about migration on the southern Mexican border.
Auron was the Vice President of the 2007-2009 Council for Programs and Projects Monitoring (CONSEPP) of the Mexican Institute for Youth.
In 2007 Auron was selected to represent Mexico on the Ship for World Youth (a program organized by the Japanese government to promote international cooperation and intercultural understanding). Auron was very inspired by many initiatives she discovered during this wonderful experience. When she came back from the Ship for World Youth, Auron joined the United Nations Association in Mexico, determined to create a solid program for Mexican realities: Deport-es para Compartir.
The aim of this program is to teach Mexican children to be better citizens and changemakers by raising awareness about the 8 Millennium Development Goals of the United Nations through games and sporting activities that promote civic values and healthy lifestyles, and build cultural appreciation. Deport-es para Compartir has reached more than 44,000 children, their teachers, and their families in 19 states of Mexico, mostly from indigenous communities. Since 2007 Auron has built an interdisciplinary team of 35 young leaders from diverse backgrounds who work together to fulfill the mission of the program.
In 2009 Auron was selected as a Global Fellow for the Youth ActionNet of the International Youth Foundation; in 2009 she won the UVM Award for social development; and she has been an Ashoka Fellow since 2011.
Auron is a member of the WFUNA Youth Advisory Group and is proud to be a 2011 INK Fellow!!
PERSONAL JOURNEY:
Every experience and every person I have met have been key to developing the program that shapes my life today: Deport-es para Compartir. This program has given me the opportunity to discover the depths of my country. To go to the furthest towns in Mexico by all means of transportation in order to promote a vision in which children of my country can perceive themselves as changemakers and trigger positive change in their communities. Through the hundreds of trips, I have confirmed that my motivation is well driven towards the potential that children have as changemakers. My journeys continue, but most importantly, I hope they keep allowing me to share my vision with children so they can find their own journeys.
WEBSITE: Deport-es para Compartir
FACEBOOK: Deport-es para Compartir Facebook page
YOUTUBE: Deport-es para Compartir Youtube channel, Program Video
TWITTER: Deport-es para Compartir twitter feed
ARTICLES: World Bank Feature
Talk(s) by Dina Buchbinder Auron
05:40Imparting values through games
Imparting values through games