Dhaval Chadha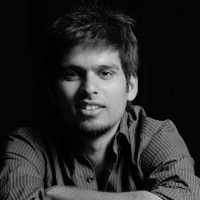 Harvard and Singularity University trained social scientist and futurist, Dhaval Chadha is a co-founder and Partner at Cria, an innovation consultancy and accelerator focused on creating shared value businesses. In its first year of existence, Cria has worked with clients such as Coca Cola, Whirlpool and the Museum of Tomorrow (to be launched in Rio in 2013) on projects ranging from innovation to scenario planning.
Chadha previously worked as Manager of Innovation at CDI, one of Latin America's leading non-profits focused on taking technology to low income communities. In his role at CDI, Chadha led partnerships with Google, Ashoka and the Motorola Foundation among others. He also helped bring to life a consulting division and CDI LAN, one of Brazil's leading social enterprises. During his time at CDI, Chadha was a guest blogger on Social Edge, the Skoll Foundation's social entrepreneurship portal.
In addition to Cria, he is a mentor for the social innovation accelerator TechoLab, a part of the Sandbox Network and have curated TEDxSudeste, the second TEDx event in Brazil. Chadha attended both Harvard and Singularity University on full scholarships. He was selected as a Benjamin Trustman fellow at Harvard for showing outstanding promise and was featured on the cover of The New York Times in his senior year of college for leading the charge for career service reform.
PERSONAL JOURNEY: Growing up across the street from one of the largest slums in India meant that I was exposed very early to the reality of class borders. Innocence and privilege kept me from challenging the status quo until I had the chance to study at the United World College of India. The strong focus on community service and international affairs there helped ground my belief in a better and more ethical world.
At Harvard, I encountered something different. I was constantly challenged to defend my world-view and decided to major in an interdisciplinary track that allowed me to study a substantial amount of ethical and political philosophy, as well as spend five months in the field in Brazil. From Smith to Nietzsche to Nagarjuna and Krishnamurthi, I read all kinds of ethical and continental philosophy that I could get my hands on and even travelled to northern India to teach English and spend time with Tibetan monks.
In my senior year, I wrote my thesis on the idea and practice of a solidarity economy and was one of three undergraduates accepted to study in a graduate course in political philosophy with Amartya Sen, Philippe Von Parijs and Michael Sandel.
As I prepared for the post-college life, I was very underwhelmed by career services at Harvard which seemed to focus almost exclusively on jobs in finance. Reform was required and so while I studied community organizing methods, I began to apply them to mobilize students and the media to help create change. Our efforts were successful leading first to a cover story in the New York Times and then to the complete overhaul of career services at Harvard College to better attend to students looking to work in public service, non-profits, science and technology and media and the arts. Following the success of the project, I was nominated for the Paul Revere Frothingham Fellowship for excellence of character.
Upon graduation, I moved to Brazil to work at CDI. My time managing innovation at this fast paced social enterprise turned into another fabulous learning experience. Two years after having joined as an analyst, I emerged confident and eager to create something new, scaleable and purposeful.
What followed was the chance to curate a TEDx conference in Rio, and a graduate studies program focused on harnessing technology to solve humanity's grand challenges at Singularity University in Silicon Valley. On my return to Brazil, I co-founded Cria with my amazing partners Fred Gelli and Florencia Estrade.
My time at Cria has been my first real experience as an entrepreneur and only now do I understand what this term means. The past year has demanded more humility, responsibility and multi-tasking than I thought I was ever capable of. Hopefully my learning journey will continue to be as rich and intense as it has been so far.
WEBSITE: Cria Global
FACEBOOK: Cria Facebook page; Dhaval Chadha Facebook page
TWITTER: Cria Twitter feed
INTERESTING FACT: I played tabla and drums in a fusion rock band in college that won a city wide battle-of-the-bands competition.
Talk(s) by Dhaval Chadha