Deepak Chopra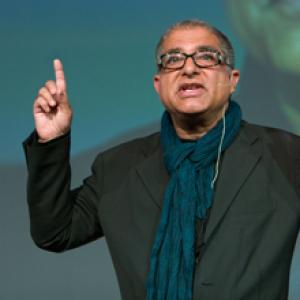 New York Times bestselling author Deepak Chopra is acknowledged as one of the world's greatest leaders in the field of mind body medicine.
He is the Founder and Chairman of the Chopra Foundation, Founder and co-Chairman of the Chopra Center for Wellbeing in Carlsbad, California and a Gallup Senior Scientist.
He regularly mentors corporate and political leaders through his "Soul of Leadership" workshops. Chopra is the recipient of the 2010 Goi Peace Award and numerous other international awards. Time Magazine heralds Deepak Chopra as one of the top 100 heroes and icons of the century, and credits him as "the poet-prophet of alternative medicine."
UNTOLD STORY: In 2010, Deepak spent two weeks of silent retreat in Thailand as an ordained Buddhist monk, which included begging for food with a begging bowl and understanding and embracing impermanence and awareness of one's own death.
BOOKS: Reinventing the Body, Resurrecting the Soul; Chopra has written more than 55 books. His books have been translated into 35 languages and sold more than 20 million copies worldwide.
WEBSITE: http://deepakchopra.com