Bhavik Gandhi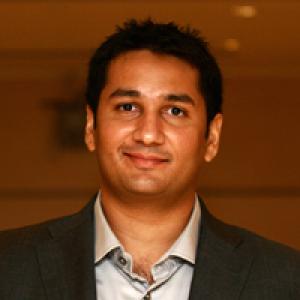 In 2007, Bhavik rowed single handed across the Atlantic, from Spain to the Caribbean island of Antigua, spending an106 days alone at sea in a 23 ft rowing boat. It was an epic 5000 km voyage which began with the battle to leave land resulting in 3 failed attempts and 2 years of preparation. It was a journey that sometimes became a living hell, stretching his mind to the breaking point as he deals with with gale force conditions, water leaks, a broken rudder, an Atlantic hurricane season, sharks, extreme isolation, sleep deprivation, muscle fatigue, a near collision with tankers, and finally a capsize.
Pushed physically, psychologically and emotionally to the limit, Bhavik survived without food rations for 2 weeks, lost the few clothes he had, hallucinated, wept, fought fear, grew a beard and nursed blisters while discovering to focus more on the beauty of the ocean and less on the hardship. Bhavik demonstrates that sometimes although a record may have been the objective, the experience gained through seeking that record becomes the reward.
Bhavik's overwhelming positivity and 'go for it' attitude are contagious. Often very emotive, he shares his highs and lows, personal battles and victories, to help illustrate in a very human way that we are all capable of the extraordinary. His philosophy of ongoing personal growth will inspire his audiences to aspire, achieve and advance towards their goals both individually and collectively.
Bhavik is one of the rising sporting personalities in Endurance Sports. His other achievements in endurance include:
Cycling solo 3000 km across Europe, from Stockholm to Istanbul and a 9000 km treck across Eurasia from Helsinki to Hongkong, thru Siberia and Mongolia in the winter. He is one of the elite few athletes in the world who have ever crossed an ocean and a continent under human power and was voted amongst the 'Top 5' sports personalities of the Year 2007 by Outside Magazine.
�Although a record may have been the objective, the experience gained through seeking that record becomes the reward.�
WEBSITE: www.bhavik.com