Anusha Yadav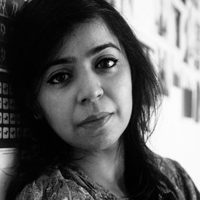 Anusha Yadav is a documentary photographer based in Mumbai. She is also the Founder of Indian Memory Project – an online project that traces a personal history of India through pictures found in family archives. It aims to become India's first open repository of a visual history made by its own people.
Anusha Yadav graduated in Communication Design from National Institute of Design, Ahmedabad in 1997. Yadav's interest in photography began while still at design school. Subsequently, she attended University of Brighton to study photography for a semester.
After fifteen years of a successful career in graphic design and advertising, Yadav began working as an independent documentary photographer in 2006 in Mumbai, India. Since then she has photographed several significant events and personalities all over the country.
Yadav has exhibited at the NCPA Gallery in Mumbai, Vadehra Gallery- New Delhi, Tasveer Gallery – Bangalore, Art Motif Gallery – New Delhi and Her series on Portraits of a City – Salzburg, was exhibited as Public Art on the Banks of the River Salzach, Salzburg, Austria and produced as a book in July 2010. The show was redisplayed at Dhoomimal Art Center, New Delhi in March 2011 and is on show at the Austrian Cultural Forum until March 2012. Yadav's next show will be on display at the UC Davies, UCLA in California, USA in November 2011 and then again at March 2012.
Her photographs have featured in publications like Shots Magazine [UK], Slanted [Germany], Verve, Femina, The Sunday Guardian, Mid Day, Times of India, Asian Photography, Mint Lounge, Hindustan Times and CNNgo.com, Dezineconnect.com, Masala Chai among others.
Yadav is also the Founder of Indian Memory Project – an online and social archive to trace a personal history of India, through pictures and narratives found via family Albums & Archives. The first of its kind, she considers it to be one of the most incredible archives available online. Yadav currently works in India and sometimes the rest of the world.
WEBSITE: The Indian Memory Project, Anusha Yadav Photography