Anita Goel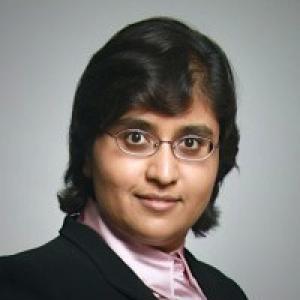 Dr. Anita Goel is the Founder, Chairman and Scientific Director of Nanobiosym, an innovation engine and hi-tech incubator at the convergence of physics, nanotechnology and biomedicine, and CEO of Nanobiosym Diagnostics to commercialize the Gene-RADAR technology platform to empower people worldwide with rapid, portable diagnostic information about their own health.
MIT Technology Review Magazine named her one of the world's "Top 35 Science and Technology Innovators". Invited by Senator John Kerry to help reauthorize $1.5B for the U.S. National Nanotechnology Initiative, Dr. Goel is also spearheading an initiative to build a Nanobiosym innovation ecosystem in India to sustainably bring emerging technologies into emerging markets.
Untold Story
Anita grew up in the rural South, where black and white people lived on different sides of the railroad. She spent time meditating in nature and reading the Vedanta in the midst of backyard pets: chickens and peacocks. From the age of 8, she would "scrub in" on her dad's operations.
Selected articles:
"Harnessing Biological Motors to Engineer Systems for Nanoscale Transport and Assembly" in  Nature Nanotechnology.
"Molecular Evolution: a role for quantum mechanics in the dynamics of molecular machines that read DNA," in the book Quantum Aspects of Life