Rajika Puri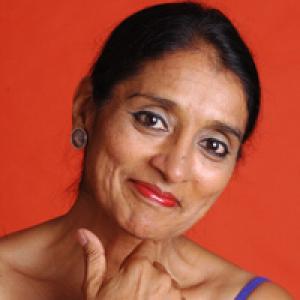 Rajika Puri is an exponent of two forms of Indian dance – Bharatanatyam and Odissi – which for several years she performed internationally in solo recital (including a command performance for the President of Mexico). After playing 'Narrator/goddess Kali' in The Transposed Heads directed by Julie Taymor (Lincoln Center Theater, '86), she developed a form of danced storytelling in which she accompanies her dances with songs, chants, vocalized rhythmic syllables, and a narrative in English. An evening of such stories, commissioned by the Rubin Museum of Art, was also presented off-Broadway: Devi-Malika: a garland of danced stories on the feminine divine in India (Duke on 42nd, '08).
Familiarity with other kinds of music and dance – western classical, modern, flamenco – drew her to cross-cultural ventures. She is best known for several phases of Flamenco Natyam in which she weaves Indian dance and music, with flamenco (Works & Process at the Guggenheim, NY; Kala Ghoda Festival & NCPA, Mumbai; Habitat Centre, Delhi). The Museum of Flamenco Dance in Seville recently dedicated a week – entitled Namaste – to her lectures, workshops and performances tracing the cultural connections between Andalusia and south India. With noted singer Nora York, she also explored – through American song, and Odissi music and dance – two passionate ways of relating to deity: as lover, Krishna, and as mother, Kali (Union/Severed, Asia Society, NY, '05).
Since 2005, her company Rajika Puri and Dancers – which includes a creative team of film/opera directors, lighting designers and musician-composers – has created thematic evening-length productions of choreographed group dances and danced stories like Conversations with Shiva: Bharatanatyam Unwrapped (Joyce SoHo, '07) and Tapasya: Ascetic Power and Tales of the Ganges (Joyce, SoHo and on film,'09).
With a Masters degree in 'The Anthropology of Human Movement' from New York University (which focused on forms of communication that use the body: sign languages, martial arts, dance-theatres) she brings a cross-cultural perspective both to her theatrical productions and her writings on dance, music and theatre.
For a while Rajika was active on the western stage, and also took part in films. In New York, apart from starring in The Transposed Heads at Lincoln Center Theater, she performed in Cymbeline at the Public Theater, in Phaedra Britannica at the Classic Stage Company, and Macbeth with Theater for a New Audience. In India, she played Portia in The Merchant of Venice, and Lady Capulet in Romeo and Juliet. Her films include Mira Nair's Mississipi Masala, Dev Benegal's Split Wide Open, and Norman Rene's Longtime Companion.
Deeply committed to the performing arts, Rajika and her husband both support and are actively engaged with several music, theatre, and dance institutions, and museums, in New York. She is co-curator of the Indo-American Arts Council's Erasing Borders dance festival, and a member of the Board at the World Music Institute.
PERSONAL JOURNEY
Born in Tanzania at the end of World War II when my father was fighting in Burma, I spent a peripatetic childhood. By thirteen I had been to eleven different schools – in Cairo, London, Dehra Dun, Delhi, and Kasauli – and spoke smatterings of Nepali, Arabic, and Swahili. Today, other than English and Hindi, I speak Spanish, French, and some Italian. My world changed when I was introduced to social anthropology and realized that I had, all my life, been 'translating cultures' as an amateur, – and that there was an art, and science to this, which I could learn.
WEBSITE
www.rajikapuri.com
INTERESTING FACTS
I adore traveling and reading cultural histories of different countries I visit, even picking up a smattering of language. Apart from listening to flamenco (prefer deep song to 'new flamenco') and watching and listening to dance, theater, and music from all over the world, I am an opera buff. Spend far too much time, though, on the computer – updating my Facebook pages: Flamenco Natyam, Rajika Puri and Dancers, and two others I manage: World Music Institute, and NY Indian Dance – and writing emails!!