INK Learning

Whether you are looking to redefine or build your (or your company's) brand in these struggling times…
Missing the tools to articulate your ideas/communicate your story…
Or are on a journey to rediscover your self by investing in your personal wellbeing…
We've got you covered!
As the world donned a new form in the last few months, so did the nature of our interactions. The pandemic forced us into the new normal of physical distancing, putting a stop to physical events and gatherings. Yet, just as swiftly, technology opened up avenues to bringing the world together like never before, binding us together in a digital cohesiveness.
With its deep impact on the way we live and work, this unprecedented crisis is beckoning us to reinvent ourselves to survive the changing times. Stepping up to this call, we at INK have put together a series of thoughtfully-curated learning lessons designed by master specialists to help you up skill and be future ready.
As its first offering, INK Learning has three varied subjects that we feel will enable you to realise your potential towards a healthier and more successful living at home, work and in your mind:
---
Power of Storytelling, by Lakshmi Pratury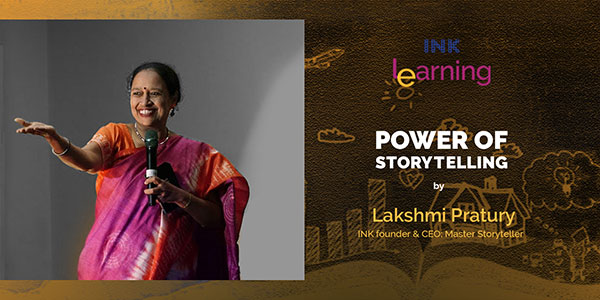 Essentially, all of us are selling our products/services, company's accomplishments, or personal profiles. But now, marketing has moved from aggressive selling to subtle storytelling. It is proven that well-told stories connect to emotions, are memorable, and create the desired impact. This course is designed to enable you to tell such stories by mastering the tenets of effective storytelling.
---
How Brand Thinking can Transform your Work and Life, by Kiran Khalap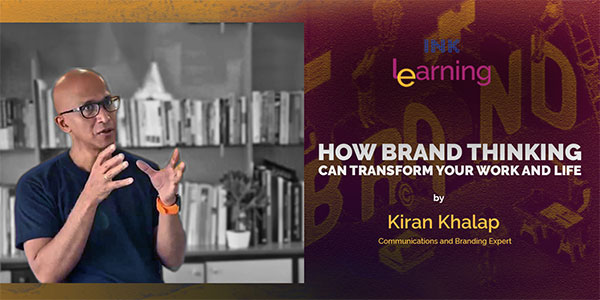 Why did Rolls Royce stop making cars and started making honey? If brands last centuries (the oldest being 1400 years old) and human beings can't, how can you as a human being become a brand? Is the current situation a crisis or an opportunity for brands…and you? Why would a start-up need brand thinking in the first place? Discover answers to these and many more questions in this power-packed INK Learning module!
---
The Human Excellence Project, by Shayamal Vallabhjee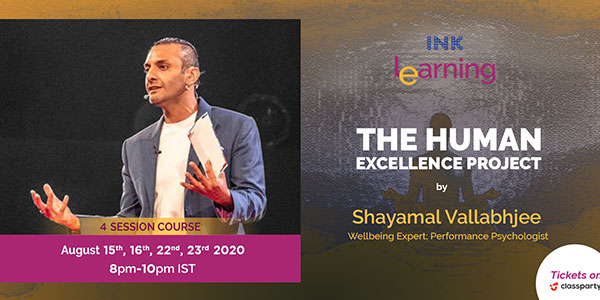 Human Excellence Project is a four-part series on gaining human excellence through the lens of self-discovery. Using the four verticals of human excellence i.e Body, Mind, Relationships, and Environment, the course will take you on an exploratory journey that covers the following topics:
Bio-hacking the body
Science of relationships 2.0
Understanding and reshaping your environment
Hacking your mind
---
Key Takeaways:
Embark on a Journey of Self-discovery, and learn to Cultivate Happy, Healthy Relationships
Chisel your Brand Thinking and Build Goodwill in these changing times
Learn to tell Stories that Connect, Stick and Stir
Designed to fit two formats, each of these courses can be availed either as a crisp 2-hour session or an immersive 8-hour module. They are facilitated by experts giving you easy access to the knowledge that took them years of research and practice to acquire – ensuring that you can achieve accelerated growth.
Bulk bookings/ inquiries: For any corporate partnership or large group hosting of INK Learning sessions, please write to us at ananda@inktalks.com.